We train law enforcement officers, military personnel, and private citizens who want a complete understanding of firearms or advanced defensive tactics that surpasses 95% of those who carry a gun for a living. Located in Bakersfield within Kern County, California.
Certified & Licensed in the State of California
Chief Range Safety Officer
B.S.I.S. Guard Card Certification & Renewals
NRA Law Enforcement Instructor
Department of Justice ( DOJ ) Instructor
Firearms Training & Defensive Tactics
With over 30 years of experience, our instructor is your best choice for firearms training in Kern County and Bakersfield.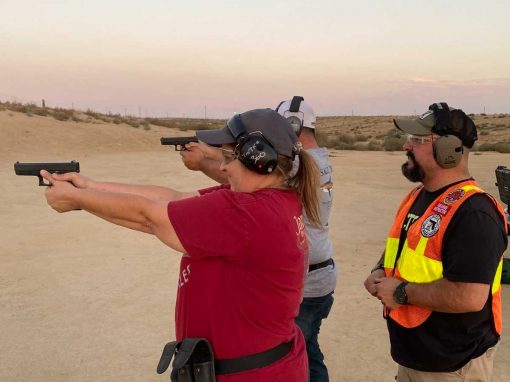 TRAINING COURSES
Our instructor teaches individuals or groups right here in the Golden Empire. We train law enforcement officers, military members, and private citizens. Browse our course list below.
ALL COURSES REQUIRE A $15 NON-REFUNDABLE DEPOSIT.
Ammunition Cost
Ammunition should be purchased beforehand by the shooter or student.
$25 for 9mm (50 Rounds)
Non-Refundable Deposit
All training sessions, courses, and classes require a $15 non-refundable deposit. This deposit is included in Online Purchases.
One on One Hourly Training
For one on one instruction, we charge $45 per hour. This style of training covers a wide range of tactics and other topics.
NRA CCW 8-Hour Course
Kern County, CA
State of AZ
State of UT
CCW 4-Hour Kern County Renewal Course
Kern County Sheriff's Department Approved
NRA Basics of Pistol Shooting Course
NRA Advanced Pistol Course
NRA Defensive Pistol Course
NRA Basics of Rifle Shooting Course
NRA FIRST Steps Shotgun Orientation
NRA Advanced Shotgun Training Course
B.S.I.S. Guard Card / Certification
B.S.I.S. Firearm 12-hour Course of Fire
B.S.I.S. Exposed Firearms Permit Course
NRA Home Firearm Safety Training Course
NRA Basic Personal Protection In The Home Course
NRA Basics Of Person Protection Outside The Home Course
NRA Basic Range Safety Officer Course
NRA Law Enforcement Instructor
DOJ Instructor FSC Issuance
Two Firearms Training Course
"Thank you Chris! I've finally learned the basics. I feel a lot more comfortable with my pistol at home. Wish I would have done this sooner."
Tim D.
Oildale, CA
"Chris is the best instructor in Bakersfield. I've been in law enforcement for years and find myself coming back to him for my renewals."
William S.
Tehachapi, CA
"With all of the recent changes, keeping our family safe became top priority. We're new gun owners. My husband and I both took a course together and now we feel safe with a gun in our home. I was nervous at first, now it's fun!"
Amanda F.
Bakersfield, CA
DEFENSIVE TACTICS
Learn the principles of tactics and have multiple opportunities to use your acquired skills under the stress of simulated, lethal encounters. This course is a must for anyone who chooses to own or carry a handgun for self-defense.
Simulated Lethal Encounters
Certified Instructor: Chris Martinez
Chris has been a Certified NRA Instructor for many years and now leads Tactical 360 located in Bakersfield, CA. He served as a peace officer and specializes in training military and police personnel. He has multiple awards from competitions.
Online Training Courses
We offer online courses you can complete any time from anywhere.