We train law enforcement officers, military personnel, and private citizens who want a complete understanding of firearms or advanced defensive tactics that surpasses 95% of those who carry a gun for a living. Located in Bakersfield within Kern County, California.
Certified & Licensed in the State of California
Chief Range Safety Officer
B.S.I.S. Guard Card Certification & Renewals
USCCA Law Enforcement Instructor
Department of Justice ( DOJ ) Instructor
Firearms Training & Defensive Tactics
With over 30 years of experience, our instructor is your best choice for firearms training in Kern County and Bakersfield.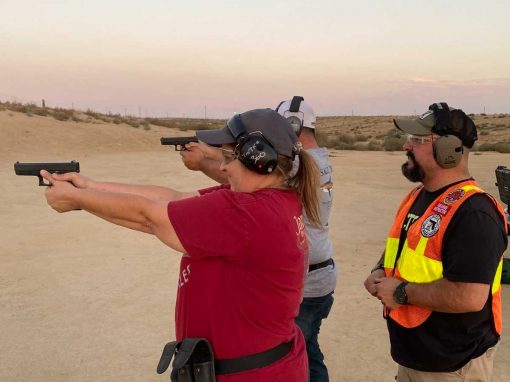 TRAINING COURSES
Our instructor teaches individuals or groups right here in the Golden Empire. We train law enforcement officers, military members, and private citizens. Browse our course list below.
ALL COURSES REQUIRE A $15 NON-REFUNDABLE DEPOSIT.
Ammunition Cost
Ammunition should be purchased beforehand by the shooter or student.
$30 for 9mm (50 Rounds)
*pricing subject to change.
Non-Refundable Deposit
All training sessions, courses, and classes require a $15 non-refundable deposit. This deposit is included in Online Purchases.
One on One Hourly Training
For one on one instruction, we charge $55 per hour. This style of training covers a wide range of tactics and other topics.
USCCA CCW 8-Hour Course
Kern County, CA
State of AZ
State of UT
CCW 4-Hour Kern County Renewal Course
Kern County Sheriff's Department Approved
USCCA Basics of Pistol Shooting Course
USCCA Advanced Pistol Course
USCCA Defensive Pistol Course
USCCA Basics of Rifle Shooting Course
USCCA FIRST Steps Shotgun Orientation
USCCA Advanced Shotgun Training Course
B.S.I.S. Guard Card / Certification
B.S.I.S. Firearm 12-hour Course of Fire
B.S.I.S. Exposed Firearms Permit Course
USCCA Home Firearm Safety Training Course
USCCA Basic Personal Protection In The Home Course
USCCA Basics Of Person Protection Outside The Home Course
USCCA Basic Range Safety Officer Course
DOJ Instructor FSC Issuance
Two Firearms Training Course
"I highly recommend Tactical 360 for your fireArms training, it was very engaging and informative course, you go home with the knowledge & building your curriculum at the same time.
Having Mr Martinez as instructors was the best option
Thank you Both Mr & Ms Martinez for providing all the training we need, Guard card, basic pistol training, & all your law enforcement training u need 360 táctical is your place highly recommend ✓"
Maria Guadalupe Garcia
"Chris and his staff are awesome instructors. I thought I knew a lot about firearms having been around them for 20 years, however, Chris Was able to improve my all-around tactical awareness and shooting accuracy. very knowledgeable and all-around great people."
Thomas W.
"I totally enjoyed everything and learned a lot on this class, getting the hands on experience the right way. I would highly recommend this class to anyone who owns a gun. Thank you Chris and Barbara, looking forward for me and wife's CCW training."
CRAIG D.
"Chris is a great instructor who is very informative and has the ability to work on all platform levels of firearms training. The information he gives you will help you as you go through the process of getting your certifications. What I like the most is that he makes himself available to assist you with training even if you have a crazy schedule like myself. I've sent over a dozen of my security officers to him for his exposed BSIS certification class and have no doubt that he will train them and keep them up to date on the BSIS regulations."
Salvador L.
"Thank you Chris! I've finally learned the basics. I feel a lot more comfortable with my pistol at home. Wish I would have done this sooner."
Tim D.
Oildale, CA
"Chris is the best instructor in Bakersfield. I've been in law enforcement for years and find myself coming back to him for my renewals."
William S.
Tehachapi, CA
"With all of the recent changes, keeping our family safe became top priority. We're new gun owners. My husband and I both took a course together and now we feel safe with a gun in our home. I was nervous at first, now it's fun!"
Amanda F.
Bakersfield, CA
"Chris and his wife are great. It was informative and fun. I look forward to my next class."
Jim R.
"Best Company and Trainer to get your firearms training or your guard card as well. He is very thorough, knows exactly what he is doing. I loved the quality of training I got from him, I feel like previous training I had gotten was literally NOTHING compared to the knowledge I received from Chris. 100% professional and recommended."
Nat W.
"Having a need for an Exposed Firearm course at short notice, I found this company. The training provider, Chris, is proficient and professional in his methods, but not at the cost of his humanity and humility. He will work with you at your skill level and push you a little beyond your comfort zone to get your brain working. 10/10 would recommend this company for your firearms training needs."
Santino A.
"Really enjoyed the class and would recommend it to anyone who has no knowledge of guns to even those that think they do. They teach you everything in the course."
Kim Perez
"Kim Perez and Austin took a pistol training class this past Saturday. I would highly recommend Chris and Tactical 360 family if you are looking to learn about firearms. Professional, knowledgeable and patient is what they both said about the instructors. Thanks Dawn Gonzalez for the recommendation."
Steve Perez
DEFENSIVE TACTICS
Learn the principles of tactics and have multiple opportunities to use your acquired skills under the stress of simulated, lethal encounters. This course is a must for anyone who chooses to own or carry a handgun for self-defense.
Simulated Lethal Encounters
Certified Instructor: Chris Martinez
Chris has been a Certified USCCA Instructor for many years and now leads Tactical 360 located in Bakersfield, CA. He served as a peace officer and specializes in training military and police personnel. He has multiple awards from competitions.
Online Training Courses
We offer online courses you can complete any time from anywhere.